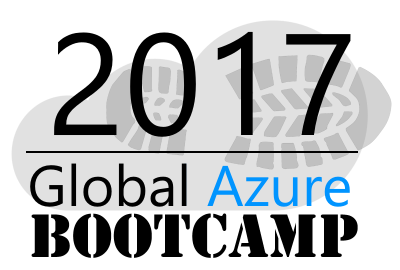 This is a call for speakers for the Global Azure Bootcamp to be held on Saturday, April 22, 2017, 9:00AM to 5:30  PM at the Microsoft Training Center at 12012 Sunset Hills Road, Suite 300 Reston, Virginia 20190.  We are looking for 15 speakers to present on the following Azure topics:
a. Azure Marketplace Solutions
b. Azure Compute /Networking/Storage
c. Azure Management /Security
d. Azure Data Platforms / Power BI
e. Cloud Governance / Staffing a Cloud Operations Team / DevOps
We plan on delivering a keynote, and three sessions to the at-large audience, then breaking into three tracks after lunch.
Planned schedule:
8:00AM - 9:00AM - check-in/registration
9:00AM - 9:50AM - Key Note, Room # All/Combined
10:00AM -10:50AM - Session 1  Room # All/Combined
11:00AM -11:50AM - Session 2 Room # All/Combined
12:00PM - 12:50PM - WIT/Girls Who Code Lunch and Learn - Room # All/Combined
1:15PM - 2:15PM  Three tracks, a room per track 
2:30PM - 3:30PM  Three tracks, a room per track
3:45PM - 4:45PM Three tracks, a room per track
5:00PM Wrap-up/Raffle
You can submit up to 3 sessions for consideration. You will have to submit a separate registration for each session submission.   Sessions should be 1 hour in duration, level 300 or higher. You can use best practices, case studies, demos, chalk talks, etc.  We are trying to fill a total of 15 session spots, and we will try to accommodate everyone who submits a session. Due to previous issues with cancellations of multi-session speakers, it is highly unlikely that anyone will have more than 1 session. The session submission deadline is Friday, March 3, 2017.  We will announce the speaker list and alternates on Monday, March 6, 2017.
What is Global Azure Bootcamp! Around the world user groups and communities want to learn about Azure and Cloud Computing! On April 22, 2017, all communities will come together once again in the fifth great Global Azure Bootcamp event! Each user group will organize their own one day deep dive class on Azure the way they see fit and how it works for their members. The result is that thousands of people get to learn about Azure and join together online under the social hashtag #GlobalAzure! Join hundreds of other organizers to help out and be part of the experience!On behalf of the Mobile-First Cloud First Team and the IT Pro Camp Team, we thank you for taking the time to participate in this awesome community event!
Here is the public event registration link for non-presenting attendees:
https://reston-globalazurebootcamp.eventbrite.com
Here is the info for Global Azure Bootcamps:  http://global.azurebootcamp.net/
Here is the info for Microsoft Cloud User Group: http://www.meetup.com/mcug-dc
If you have questions, you can reach us at washdc@itprocamp.com
@MFCF_DC
##GlobalAzure